I have been trying recipes that are new to me. Ordering the groceries online, picking them up in the safety of my car and unpacking them at home has given me the feeling that I am empowered to cook. Preparing meals that are low carb or Keto is helping me stay motivated to become healthier.
In addition, I've been reading Dr. Jason Fung's Books, "The Obesity Code", "The Diabetes Code" and "The Complete Guide to Intermittent Fasting" which has provided an understanding that I must limit carbs so that my body can burn the fat. Learning some science from Dr. Fung's books and his videos at The Diet Doctor website has really propelled me to understand what I put into my body and to learn the benefits of intermittent fasting.
I've been doing intermittent fasting and like the results that I'm having. Knowing that I will get to eat a delicious meal that won't raise my blood sugar and allow my body to keep burning fat is a great feeling!
Each morning I sip on coffee mixed with heavy whipping cream which keeps me going instead of eating breakfast. On Tuesdays, Thursdays, Saturdays and Sundays, I eat lunch and dinner. On Mondays, Wednesdays and Fridays I fast all day and then eat dinner. In essence, I fast 24 hours after dinner on Sunday to dinner on Monday, after dinner on Tuesday to dinner on Wednesday, then after dinner on Thursday to Friday dinner. During the afternoon, I will sip on hot tea, drink water with a slice of lemon, drink some flavored, no sugar or sweetner added seltzer or Nature's Twist Strawberry Lemon sugar free drink. (Dr. Fung suggests other types of fasts that last less and longer than 24 hours to engage your body in weight loss too.)
You could visit my Pinterest Page on Keto Recipes to see what I've been pinning and making or dream of making. Here are a few pictures of some of my favorites meals that I've prepared during the past couple of weeks. My friend, Christine Trimpe, introduced me to The Diet Doctor website which has wonderful Keto recipes. Christine shares tips with us on how to be in a fat burning body!
First, Taco Pie with no crust is amazing!
Second, Keto Seafood Chowder, with salmon and shrimp or clams along with celery, heavy whipping cream and spinach is incredible!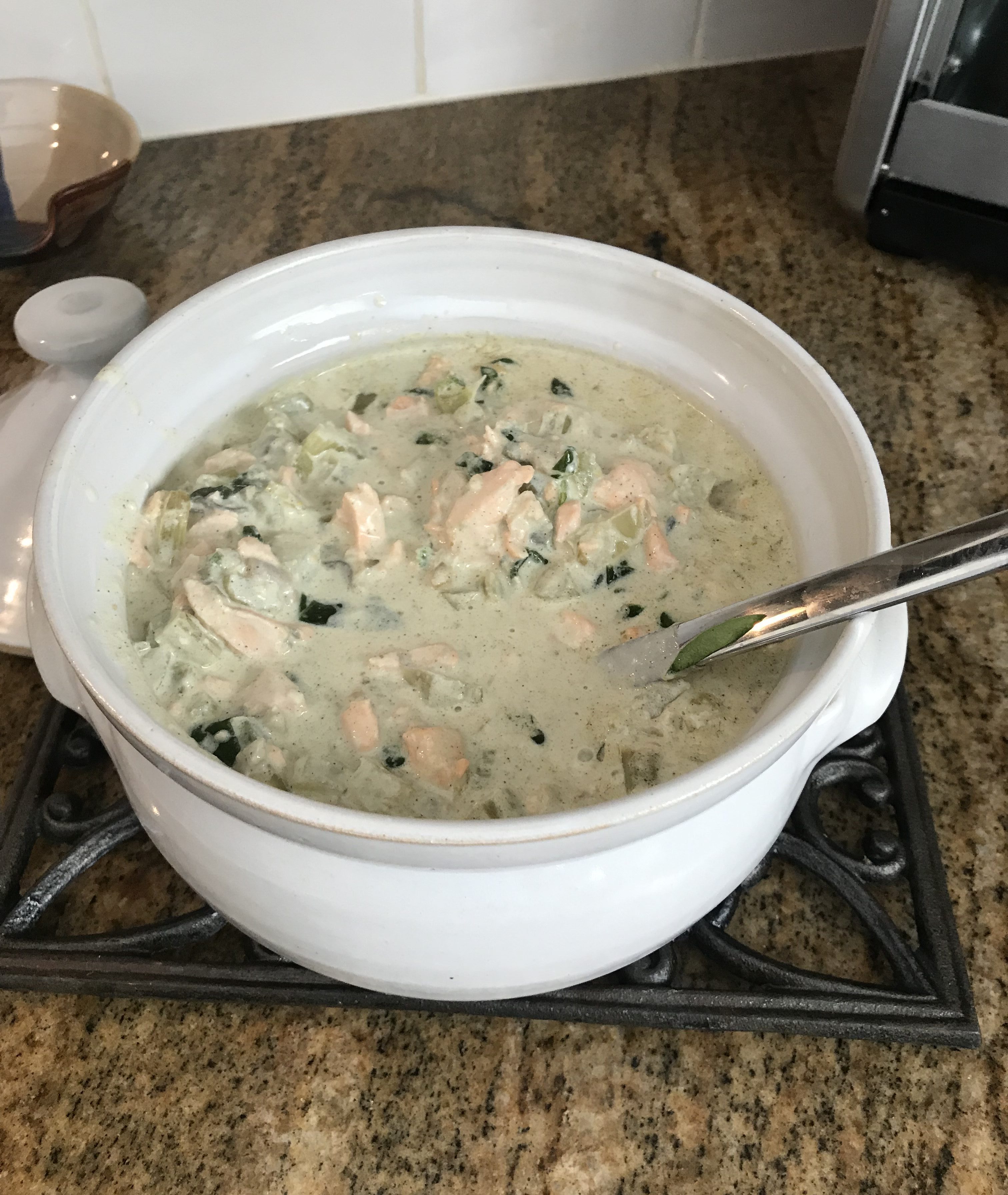 Third, Keto Chicken Casserole is becoming a once a week repeat! Who knew leeks could enliven and cauliflower could melt in your mouth under shredded cheddar? (When your husband hates removing tomatoes from a dish, you only cover half of the dish with seeded tomatoes.)
Fourth, I love Olive Garden soups so when I found the low carb Zuppa Toscana soup recipe, I fell in love! Guess what, though? Substituting the cauliflower for potatoes makes sense to give me the bulk without the potatoes. Italian Sausage, bacon, heavy whipping cream, onions and wilted kale are my new best friends!
Fifth, these cold winter days make me love to smell and prepare soup. I didn't grab a picture, but I really did enjoy the smell and taste of the Keto Chicken Soup. The strips of cabbage gave me texture so I didn't even miss the actual noodles!
Sixth, my favorite fat bomb is a frozen Three Musketeers! The frozen layers give me just what I need after dinner! I create them in my heart shaped mold pan and my circle candy pan even though the directions say to make them in a mini muffin pan. I make them on the weekend and have a treat all week!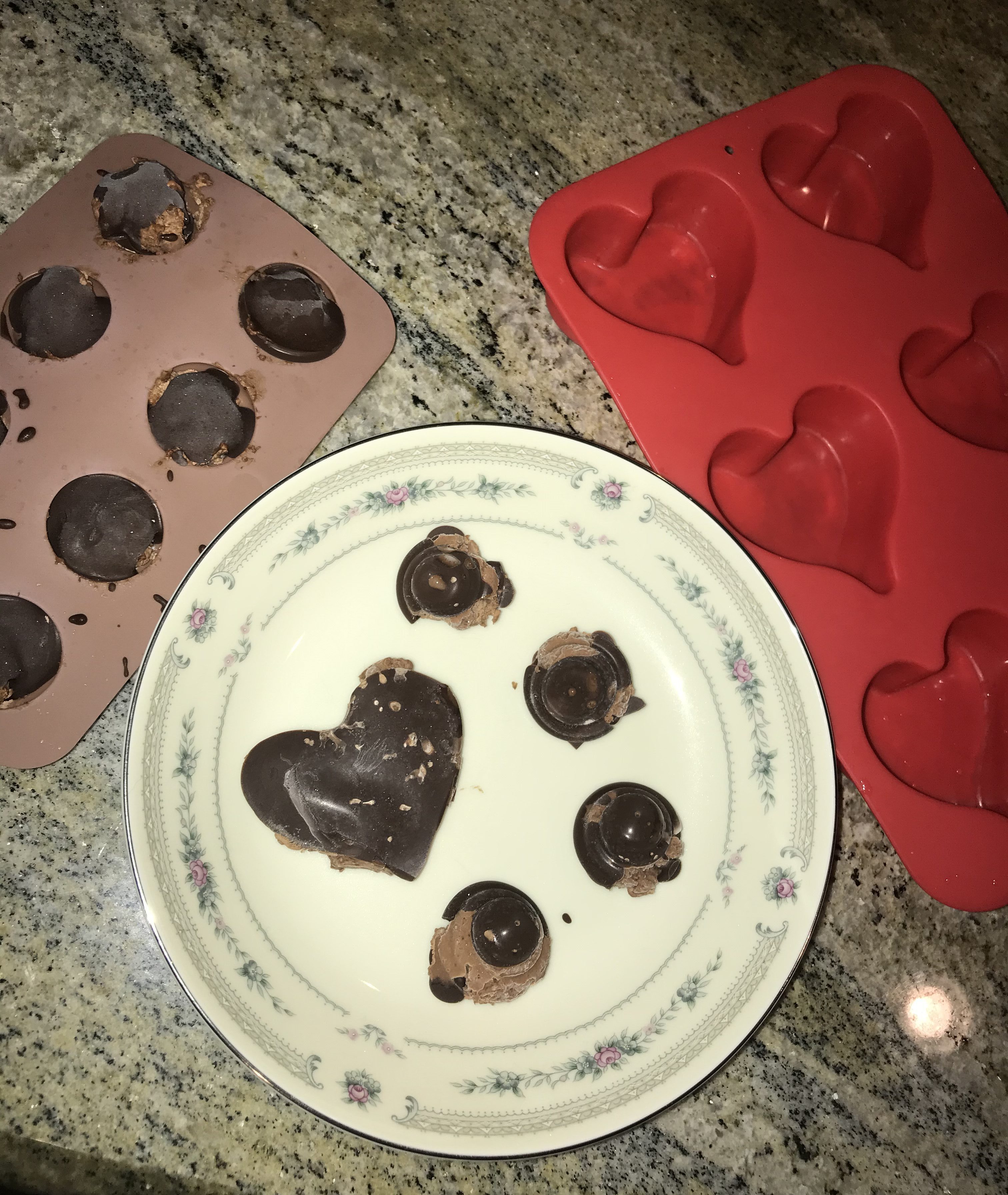 Seventh, I tried the Keto Sausage, Egg and Cheese Bites this weekend! Even though I'm fasting breakfast now, I can eat these bites for a quick lunch!
Ultimately, the planning that goes into meal prep has become a way that I care for my mental and physical health. Food is my fuel so I need to fill up at the right times. I am also finding that preparing the food is a way to unwind. I listen to my favorite music while I'm cooking or catch up on the evening news in the background. It's been a way for me to own my food choices.
My friend, Christine Trimpe, is a huge inspiration for me as she has guided me into tips that have sustained her since she lost over 100 pounds four years ago and has kept it off. She inspires me to meditate on Scripture passages in my morning quiet time with God over coffee which she calls her "Bible and Beans (coffee beans)" time. Her call is to be joy fueled with Jesus who fills my heart, mind, soul and body with truth and grace from the Bible. Being able to fuel her spirit, intentionally plan Keto meals and participate in intermittent fasting helped my friend to feed her body the right food which eventually allowed her whole health to improve which is also my goal.
What about you? Are you fueling your heart and spirit on what is good? Do you have an encourager in your life? Have you considered planning meals to help you make proper food choices? Have you wondered what intermittent fasting really is? I encourage you to share your stories with me by commenting in the blog and check out Christine's site. I would love to pray for you. I am learning how all of this works and enjoy cheering on others who are also on the path to better health.
Philippians 4:8 (ESV) reminds me of these truths to think on in my journey to better health: "Finally, brothers, whatever is true, whatever is honorable, whatever is just, whatever is pure, whatever is lovely, whatever is commendable, if there is any excellence, if there is anything worthy of praise, think about these things."