My family traveled to New York City in December of 2018 for the first time. I posted a lot of pictures on social media and soon a friend asked me what we enjoyed most and some must see places. This was my reply along with some new commentary for you who are reading now, in case you are interested:
4 must do things: Central Park, a Broadway show, Statue of Liberty and Times Square. We all enjoyed walking through Central Park twice on two separate days, getting a hot dog from a stand and taking pics. It would have been neat to ice skate or do a bike tour but we didn't. There is also a zoo in Central Park but we had to leave to ride subway back to a show.
We got our Broadway show tickets at the TKTS office at Lincoln Center for same day or next day shows. We had to wait an hour in line and we went three times but it saved a lot of money. Our favorite show was "Waitress". We also saw "The Band's Visit" Musical which won the Tony Award last year but none of us really enjoyed it. I wish we would have just seen "Waitress" and "Mean Girls" and not spent money on "The Band's Visit" and the two plays that we saw. The family liked the plays that we saw which were "The Play That Goes Wrong" and "Puffs" which is about the unsuccessful Hufflepuffs at Hogwarts School. We saw the Rockettes perform but I don't know if they just perform at Christmas or if they will be dancing when you go. I heard that Broadway show ticket prices are higher during Christmas so I hope that you could secure tickets before you go and get a more reasonable price at www.broadway.com.
We took the subway to the Bowling Green Station to get to the Statue of Liberty location. Once we walked to area near the water, there was a company offering boat rides around the Statue of Liberty and to see Manhattan's skyline. As a teacher, this boat ride was so awesome because I could see the Statue so well which made me feel patriotic but it was chilly! This cost is $33 per person.
Times Square is really fun to see with huge billboards! We liked getting tee shirts and eating at Carlo's Bakery near Times Square. We ate at Melt Shop twice which was delicious! Unfortunately, the crowds in Times Square and surrounding blocks grew bigger each day from Dec.26-30. It is amazing to see the area, but feels a bit like a tourist trap. People were bumping into me as I clutched my purse for dear life. There were just too many people trying to access that part of the city.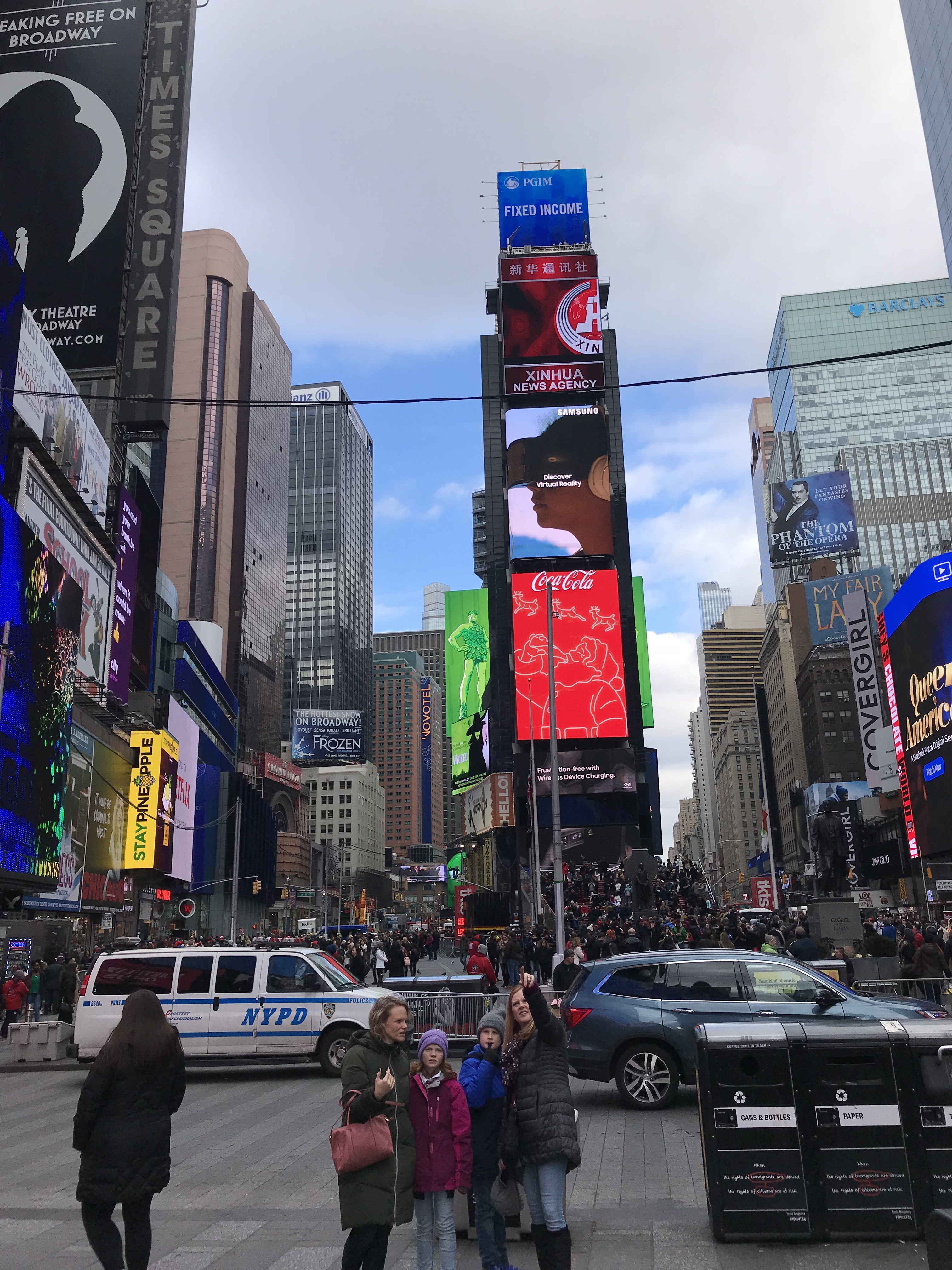 I wish we could have gone to 9/11 Memorial but time did not allow. We went to the Museum of Natural History but the line was long and down the block but since "Night at the Museum" was filmed there, it would have been so nice to see it. Instead, we saw the John Lennon Memorial called "Imagine" near his home on the edge of Central Park.
I like art and so we decided to go to the MOMA (Museum Of Modern Art) on free Friday nights but it was very crowded. By the way, I got separated from my family as we were trying to find the end of the line to get into the MOMA. It was raining and I had to hold my umbrella low so it wouldn't bump into the millions of other MOMA visitors on the sidewalk. My husband and children had to walk ahead of me but suddenly, gobs of people blocked my view of them and instantly, I could not see them. I didn't panic but it made me uncomfortable for a few minutes until we reunited! I couldn't get very close to Van Gogh's "Starry Night", but did take pictures of works by Monet, Picasso and Wyeth.
We went in Macy's and Saks 5th Ave. because of their holiday window displays. We rode escalators up to the 9th floor of Macy's and saw multiple restaurants in the store! We bought Christmas ornaments there including a mini Macy's bear, a "Believe" glass ornament and Rockettes ornament with four ladies dressed as Nutcrackers! I also bought some FAO Schwartz bears after we walked through the amazing FAO Schwartz toy store!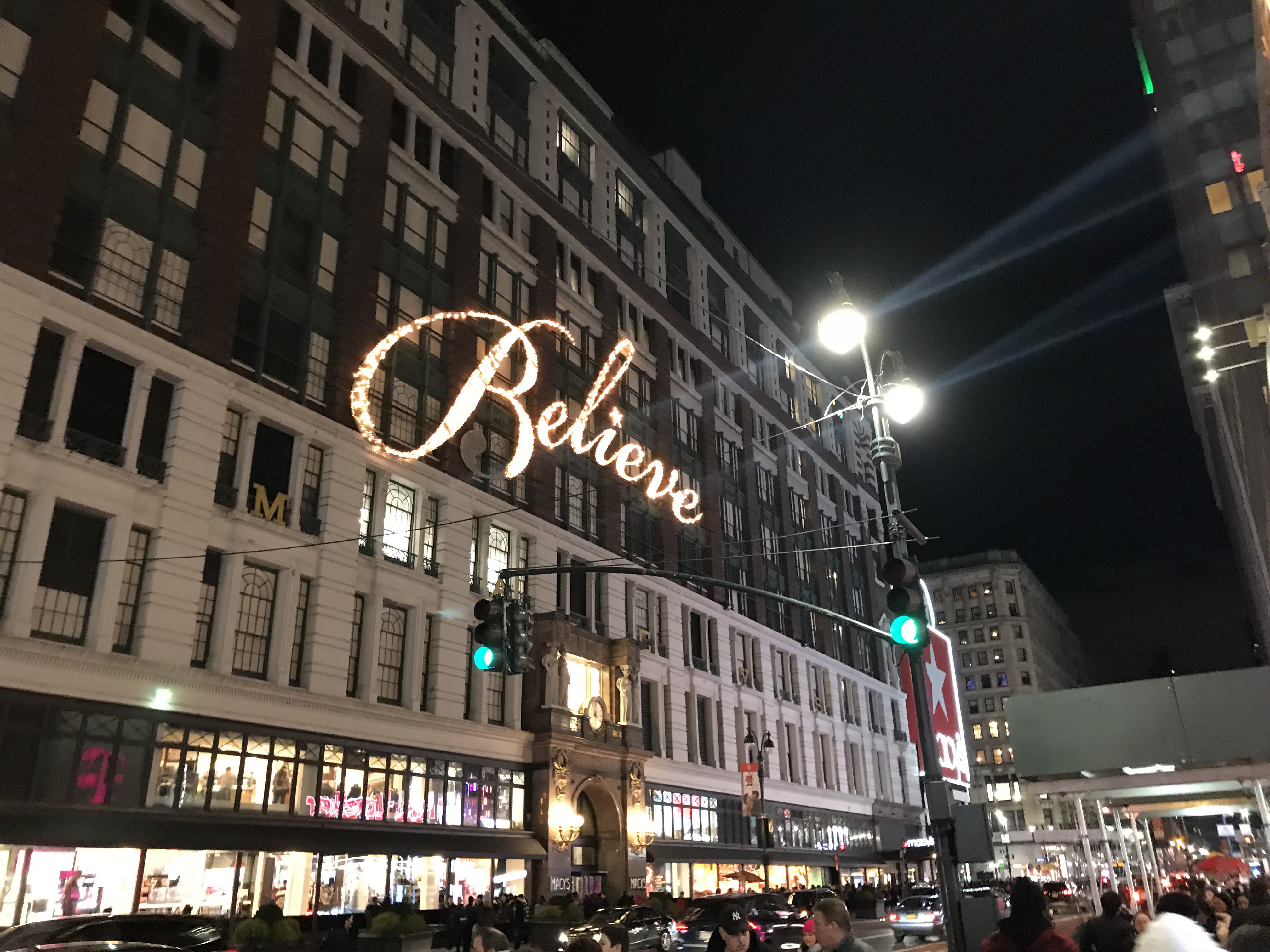 St. Patrick's Cathedral is near Saks and Rockefeller Center. The public can walk in and see the beautiful architecture. It is amazing! People were sitting in pews resting from the hustle and bustle. Some were silently praying. It was truly a sacred place.
I wanted to go up to the Top of the Rockefeller center to see a High up view or Empire State Building, but it made my husband dizzy just to be on the balcony of the 33rd floor of our hotel.
We took Lyft a few times but purchased a 7 day pass for subway for around $33 each. There were people begging and in dire straits that we saw in the subway which was hard for me to see. There was a lot of transferring from one train to another train which meant a lot of walking up and down steps to get to various floors of the subway. I had never been before and was not aware of the amount of walking.
I loved the Christmas tree at Rockefeller Center too! We were able to walk near the tree on two nights out of our five days in Manhattan. I had signed up to go to The Today Show in Rockefeller Plaza, but could barely move from tight and sore feet on Thursday morning so we slept in a bit to recover our strength! We rode the elevator of our hotel to the 33rd floor and went out on a huge rooftop balcony which allowed us to get beautiful pictures of the Chrysler Building.
I walked 86,222 steps in five days! It was exhausting but we wanted to pack in as much as possible. I am grateful to have visited New York City. It took three days back home before I got my energy back and my legs/feet felt better. Looking back at pictures helps me relive the best parts of the trip. It takes fewer steps to climb Mt.Everest, but am glad that I could make the trip with my family!