"There are three things that amaze me — no, four things that I don't understand: how an eagle glides through the sky, how a snake slithers on a rock, how a ship navigates the ocean, how a man loves a woman." Proverbs 30:18-19 (NLT).
I fell in love with him. It was 1989. He walked into my church. My eyes tracked his steps. "Where has he been all my life ?" I asked myself. It was on that night in late May when I talked with him for the first time. He was home from N.C. State for the summer. He came to my church because his parents had recently started coming to our church. I had just finished my freshman year of college at UNC-Greensboro. I was drawn to his dark eyes and tried to keep glancing into them whenever possible.
We officially started dating on July 23 of that year. He had turned 19 in June then I turned 19 in September. It was during that year when I fell in love with him. Our families had Sunday lunch with each other allowing us a unique opportunity to get to know each other. On our first outing together, a "first date", an unlicensed driver plowed into us as we traveled to see a Christian comedian. The police officer took us back to my car which we had parked at our church. I had never been to his house but I had to take him home that night because his truck was undriveable. I sat in a chair in his den while a black cat jumped into my lap and two dachshunds barked around my feet. Since I was never a fan of pets except my Grandma's dog, I felt sweat building on my forehead while also wanting to not wish to let him know my huge fear of animals. As the summer wore on, we'd swim in his family's pool which gave me the chance to interact with his animals. I finally got to be at ease with the dogs and cat. I liked to grab a Wendy's Frosty after church on Sunday nights with him and watch TV.
When fall came, we parted and he moved into his dorm in Raleigh. I settled into my dorm too with a friend. Although we were two hours away, we would visit each other as much as possible on the weekends. He arrived at my dorm room door one fall night dressed in a bow tie and black coat wearing faded blue jeans and holding a dozen roses. I could see him walking up to my old dorm through my window. I have pics of that moment. We were 19 and in love.
We had long phone conversations where I did a lot of the talking. I wanted him to know me. He was all ears. We drove to Asheville where we toured Biltmore house on a rainy Saturday. Our sophomore year of college ended. We worked in church camp cleaning dishes and hanging out. He was my boyfriend. My boyfriend who loved Jesus like I did and still do.
One weekend between session 1 and 2 of UNCG Summer School, we drove 8 hours to our first trip to the Outer Banks. My college friend, Melissa, had invited us to stay at her boyfriend's family's house near Cape Hatteras. It was a long drive for sure. On Saturday while my boyfriend and hers surfed, Melissa and I held on to a single boogie board and talked as we floated in the ocean water. We were very close to the black and white diagonally striped mammoth known as the Cape Hatteras lighthouse. Before we realized it, the current had taken us out farther than we wanted to be. We started trying to swim back to shore which didn't seem like it was way too far, but it became increasingly more difficult.
I didn't realize it at the time, but we were caught in a rip current which keeps swimmers from swimming back to shore unless they swim parallel to shore. The rough waves crammed my head several inches below the water again and again while my feet dangled. I squeezed my eyes tightly shut to keep my new contacts from getting lost. They were my first pair of contacts and I didn't want to have to explain how I lost them to my parents. Melissa graciously allowed me to hold on to the boogie board for dear life while she bounced up and down as the waves took her under. She would yell, "Get ready. Here comes another one!" allowing me to brace myself for a series of tormenting moments. When I would open my eyes, I would see Cape Hatteras lighthouse. I was glad to see it since the only other option was to be carried under the waves for good.
I found out later that it was my boyfriend who noticed Melissa and me and thought it strange that we were such a long ways from the shore. He began to swim toward us. He reached me first and held me followed by the lifeguards who hoisted my weak body on to a long red life saving board. Melissa was also rescued. We arrived on the sandy shore exhausted and depleted. My left tricep had a nasty dark blue bruise. My breathing slowed to normal while I coughed salt water up. I embraced my boyfriend who had lifted me out of those dark waves. Because of him, I was alive and well. I teared up as I thanked my precious friend for sacrificing and letting me have the boogie board or else I would have surely drowned. She kept me calm as we endured the worst physical battering of my life.
I knew that this boyfriend of mine had been used by God to rescue me and allow me a second chance on life. God helped me make the connection between the words of an old hymn which I love and my near death experience in the ocean. It is "Love Lifted Me". I cry when I picture Jesus rescuing me from sin through His death, burial and resurrection. Jesus and Gene came to me when I was far from peace.
Verse 1:
I was sinking deep in sin
Far from the peaceful shore
Very deeply stained with sin
Sinking to rise no more.
But the master of the sea
Heard my despairing cry.
From the waters lifted me
Now safe am I.
Chorus:
Love Lifted me
Love Lifted me.
When nothing else could help
Love Lifted me.
Love Lifted me
Love Lifted me.
When nothing else could help
Love Lifted me.
A month after our ocean rescue, he arranged for us to have dinner at a restaurant then dessert by candlelight by his backyard pool. We were celebrating our first anniversary. I wore a white skirt with a blue and white striped shirt which he had given to me. The candlelight danced on the pool water. He gave me a Precious Moments music box with a boy and girl and a tree with a sign on the tree: "I love you." were the words on the tree. He had told me that he loved me long before that night, but I remember that night very well. I love how he looked into my eyes. He and I couldn't be happier.
We finished college and I moved two hours away to teach third grade. We took a break a couple of times but those moments only brought clarity to us about who and what we wanted. I earned a Master's Degree but a month before I graduated, on Nov.9, 1996, he proposed to me. We had waited about getting married until he was accepted into Veterinary School but the news came in the Fall of 1996 that he would attend N.C. State's Vet School. Our time had come!
We planned our wedding for June of 1997. This June, we will celebrate 19 years of marriage. Technically, we started dating 26 years ago. The 19 years of marriage have passed bringing joy and hurt. My friend, Melissa, gave us a framed quotation which are lines from our wedding vows. I have gazed into our curio where it has sat through the years. It's words pulled me back together and reminded me of what I had promised to him on many of an occasion. Here are the words that she had written in calligraphy and framed: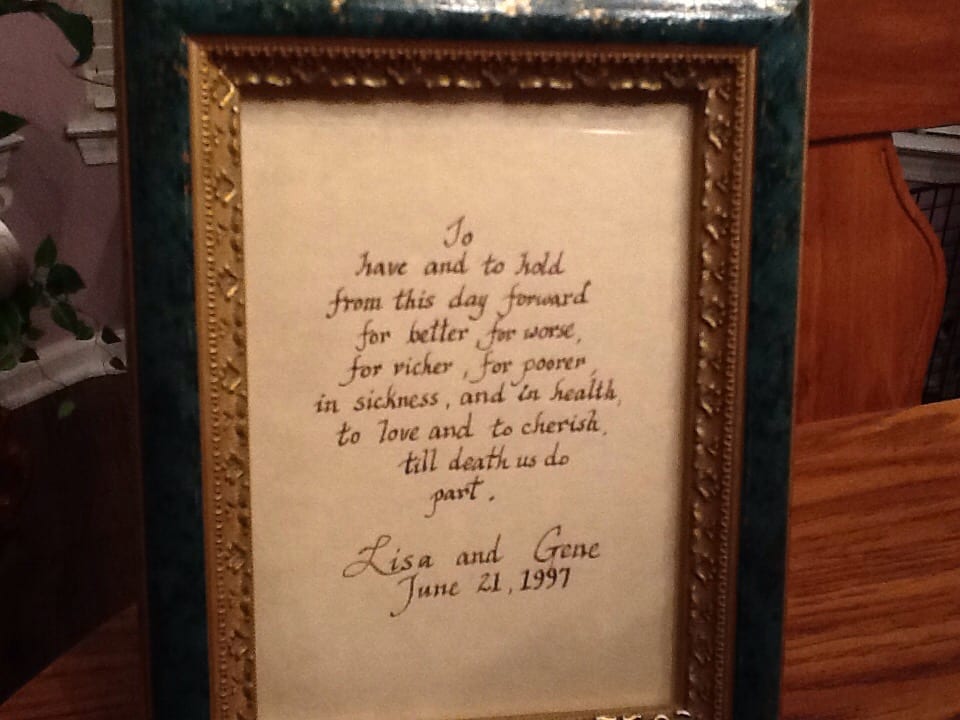 Our love has gone through many phases and been filled with beautiful moments such as with the births of our two children. I treasure our marriage because it has provided great joy and endured valleys of sadness and uncertainty. We love each other differently than when we were 19. It amazes me to know that we have forgiven mistakes and given grace to each other. We had no idea as nineteen year olds what we would experience while living out our lives together. I think that if we had known, we would not have been so bold as to get married. But, we did. My boyfriend became my husband, my husband who still looks into my eyes and just knows me.
I am amazed, like King Solomon, that a man can love a woman like Gene loves me and that I can love him. We are very different individuals. Through the years, though, he and I have overcome obstacles that stood between us and made the choice to love and stay together. He makes this choice daily. I make the same choice daily to love him. I pray for him and ask our Lord to protect his heart and our marriage from all evil.
There is nothing ordinary about our love. He rescued me when we were 19. Now that we are 19 years into marriage, I can say that God rescues us as we sometimes feel an emotional disconnect. Our hearts start to connect again and we are brought back to life. Usually, it is after the Holy Spirit moves on our hearts that we realize our flailing reactions to the battering that life gives us. We apologize and forgive. We laugh hysterically. We watch movies not just on Friday Night Family Movie night. He loves to fall asleep holding me. I will admit, it is an amazing place!
Happy Anniversary just a bit early, my Gene. I love you. I am in love with you, still.